Description
[ad_1]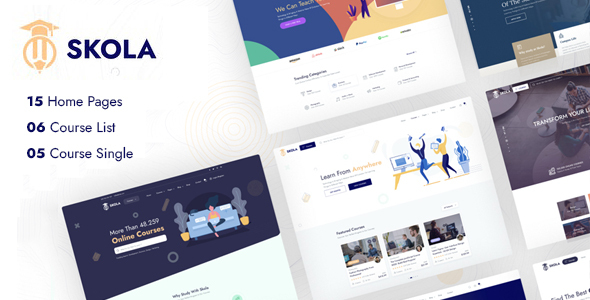 Skola – LMS Online Education Course & School WordPress Theme
From the makers of Jobhunt – Job Board WordPress theme for WP Job Manager and Bookworm – Bookstore & Bookshop WooCommerce Theme, here is another new theme for learning management system – Skola – LMS Online Education Course & School WordPress Theme.
Skola, is a learning management system WordPress Theme. It is built for LearnPress plugin which is the most popular Learning Management System plugin for WordPress. With Skola and LearnPress, you can create and manage Courses, Sections, Lessons, Quizzes and Questions for the quizzes.
Skola is perfect for all kinds of educational institutions, including: LMS Learning Management System, Online Courses, Remote Schooling, Digital Academies, Training Hubs, College & University Education, Multi-device E-learning, and more.
With 15 unique homepage designs, 6 course listing pages, and 5 single course layouts, Skola is able to deliver all kinds of online courses and remote lessons in a modern and attractive format.
Clean lines, soft colors, and fluid UX will surely create an online learning experience that your students will love. Create a content-rich and exciting LMS with Skola – The most complete LMS template for online courses and e-learning schools
Built for LearnPress
LearnPress is the most popular LMS system for WordPress. It is also used by the most popular themes at ThemeForest. We've built Skola for LearnPress. It supports all features provided by LearnPress such as course management with curriculum, quizzes, etc. Along with a few more addons ( that are not part of the theme ), you can monetize your LMS website as well.
Built with Elementor
Home pages and other static pages in Skola are built with the most popular page builder for WordPress, Elementor. We've developed a special plugin that would extend Elementor's core features. Skola Elementor plugin comes with 25 Elementor modules that are skins for existing Elementor Widgets, new widgets, additional controls, etc. Build your home pages and static pages easily with Skola Elementor.
Theme Features
15 Unique Home page layouts
6 Courses list styles
5 Courses single variations
2 Lesson page variations
Events compatiblity with The Events Calendar
Compatible with WooCommerce to sell products online
4 Blog layouts
10+ Static Pages
Pages
Home Pages
Home v1
Home v2
Home v3
Home v4
Home v5
Home v6
Home v7
Home v8
Home v9
Home v10
Home v11
Home v12
Home v13
Home v14
Home v15
Courses List
Courses List v1
Courses List v2
Courses List v3
Courses List v4
Courses List v5
Courses List v6
Course Single
Courses Single v1
Courses Single v2
Courses Single v3
Courses Single v4
Courses Single v5
Lesson Single
Lesson Single v1
Lesson Single v2
Instructors
Instructors List
Instructors Single
Events
Blog
Grid v1
Grid v2
List v1
List v2
Blog Single
Shop
Shop Cart
Shop Checkout
Shop List
Shop Single
Other Pages
About v1
About v2
Contact us
Terms of Service
Pricing
FAQ
Login
Register
Become an Instructor
Coming Soon
404
Documentation
You can access our online documentation here: Skola Documentation
Trial & Demo Content
v1.0.18 – 2023-08-21

Feature : Compatible with WooCommerce 8.0.x
Feature : Compatible with LearnPress 4.2.3.x

We encourage you to try our theme before purchase. Please reach out to us via our support tab and we'll setup a trial for you.
Preview images are generally not included except in cases where we've obtained permission to use them.
Release History
v1.0.17 – 2023-06-16

Feature - Compatible with WooCommerce 7.8.x

v1.0.16 – 2023-02-17

Feature - Compatible with WooCommerce 7.4.x

1.0.15 – 2023-01-31

Feature - Compatible with WooCommerce 7.3.x
Fix     - Elementor v3.5.0 deprecated methods and hooks fix

v1.0.14 – 2022-12-22

Feature - Compatible with WooCommerce 7.2.2

v1.0.13 – 2022-12-19

Feature - Compatible with WooCommerce 7.2.x

v1.0.12 – 2022-12-14

Update  - Elementor 3.9.0 compatible

v1.0.11 – 2022-11-07

Feature : Compatible with WooCommerce 7.0.x

v1.0.10 – 2022-09-27

Feature : Compatible with WooCommerce 6.9.x
Fix     : Once hit the complete button on a lesson it shows an error

v1.0.9 – 2022-08-04

Feature : Compatible with LearnPress 4.1.6.x

v1.0.8 – 2022-03-28

Feature : Compatible with Elementor 3.6.0

v1.0.7 – 2022-02-09

Fix     : Courses & Avatar issues.

v1.0.6 – 2022-02-09

Feature : Compatible with WordPress 5.9
Feature : Compatible with WooCommerce 6.x
Feature : Compatible with PHP 8.0
Update  : Updated dependencies

v1.0.5 – 2022-01-31

Feature : Compatible with LearnPress 4.1.5

v1.0.4 – 2021-12-30

Feature : Compatible with LearnPress 4.1.4.x

v1.0.3 – 2021-10-18

Feature : Compatible with LearnPress 4.1.x
Fix     : Fix Price & Skill Filter in Course Archive

v1.0.2 – 2021-08-26

Update  : Disabled widget block editor.
Feature : Compatible with LearnPress 4.1.x
Feature : Sticky Headers

v1.0.1 – 2021-07-27

Feature : WordPress 5.8 compatible 
Feature : WooCommerce 5.5 compatible
Fix     : WooCommerce integration with Tribe events issue

v1.0.0 – 2021-06-24

Initial Release

[ad_2]
Source