Description
[ad_1]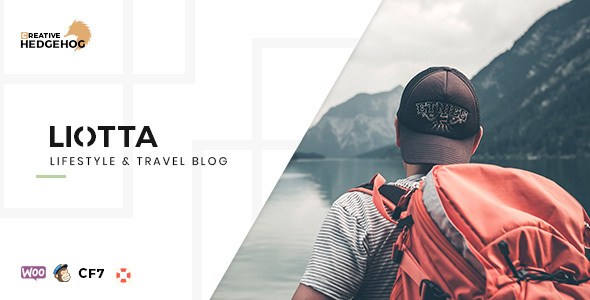 Liotta is an elegant and simple blog theme for WordPress aimed at bloggers, photographers, designers, adventurers or just about anyone who likes to share stories and have a strong visual presence on the web.
The theme comes with support for Google Fonts, Flickr Feed, Custom Widgets, and Sharing and Post Liking functionality. Additionally, the theme supports the Mailchimp for WordPress plugin so you can maintain a subscriber base with ease. The theme fully utilizes the WordPress Customizer for managing theme settings with over 300 Customizer options.
Responsive design allows users to experience the theme specifically tailored for their mobile device.
Liotta comes with extensive Documentation which covers every part of the theme in details. If you still have questions, we also fully support our themes and you can contact us through our profile page at Hedgehog Creative.
If you're in need for a theme with emphasis on content with strong and bold typography, this is the theme for you.
Features
Demo Content Included
WooCommerce Compatible
Responsive Design
3 Featured Sliders Styles
9 Homepage Layouts
Edit Default Theme text from the admin panel
Working Share Functionality
Working Post Like Functionality (support for Zilla Likes)
Custom Widgets
Extensive Documentation
Unlimited color variations
Contact from with the help of Contact Form 7
Google Fonts
Supports all major browsers

Version 1.1.3. - 29.06.2020.
-- Updated the bundled liotta-options plugin

Version 1.1.2 - 20.01.2020.
-- Bug Fix - Post meta hide / show options - (files changed: section-post-header.php, section-post-footer.php)
-- Bug Fix - Featured image overflow on older IE browsers (files changed: style.css)

Version 1.1.1 - 22.09.2019.
-- Bug Fix - Issues with the Page Sidebar on smaller screens (files changed: page.php, woocommerce.php)

Version 1.1 - 22.09.2019.
-- Major Fix - Due to changes to the Instagram API, our custom Instagram Feed solution no longer works 100%. If you're having issues displaying your Instagram Feed we added support for a, highly regarded, third party plugin (Smash Balloon Social Photo Feed). 
Either way we recommend to switch to using the aforementioned plugin to avoid any potentially arising issues. The support for our Instagram Feed solution will eventually be dropped entirely.
(files changed: footer.php, style.css; Liotta Options plugin: instagram-settings.php)

Version 1.0.4 - 20.03.2019.
-- Bug Fix - Issue with the Gallery Post format when no images are selected
-- Bug Fix - Issue with the Sidebar on the left side.
-- Bug Fix - Tweaks to the rtl.css file
-- Bug Fix - Nifty Metaboxes plugin (3.0.2) - Font awesome css was loading twice

Version 1.0.3 - 05.03.2019.
-- Bug Fix - Main Nav links text-transform and line-height now editable from the customizer
-- Bug Fix - Liotta Options plugin (1.0.2) - Banner settings image preview not showing after inserting
-- Bug Fix - Liotta Options plugin (1.0.2) - Delete banner button was not deleting all the values

Version 1.0.2 - 27.02.2019
-- Bug Fix - Removed the unnecessary Comment Form text
-- Bug Fix - "min read" string now translatable and editable from the Default theme text settings panel
-- Style Fix - WooCommerce Review input boxes styled properly
-- Style Fix - Currebt slide count font family adjusted

Version 1.0.1 - 22.02.2019
-- Bug Fix - Banner Settings - select image button not working
-- Bug Fix - RSS feed icon not showing
-- Bug Fix - Prefixed Font Awesome css script handle Feature Fix: Removed Editor Picks post selection from the Customizer to the Post meta box setting.
-- Style Fix - Restyled the Instagram feed.
-- Style Fix - Newsletter Sidebar Widget hover text color
-- Style Fix - hr tags styled so that Classic and Gutenberg editor styles match

Version 1.0 - 19.02.2019.
-- Initial release

Credits
One Click Demo Import
Zilla Likes
Slick Slider
Masonry
SlickNav Responsive Mobile Menu v1.0.3
FitVids 1.1
jQuery Flickrfeed plugin
Modernizr Plugin
Nivo Lightbox plugin
jQuery Superfish plugin
Font Awesome Icons
Google Web Fonts
Images from Unsplash.com and DeathToStock Photos under Creative Commons Public Domain License
Support for Contact Form 7
Support for Mailchimp for WP Lite
Perfect Scrollbar jQuery plugin
[ad_2]
Source