Description
[ad_1]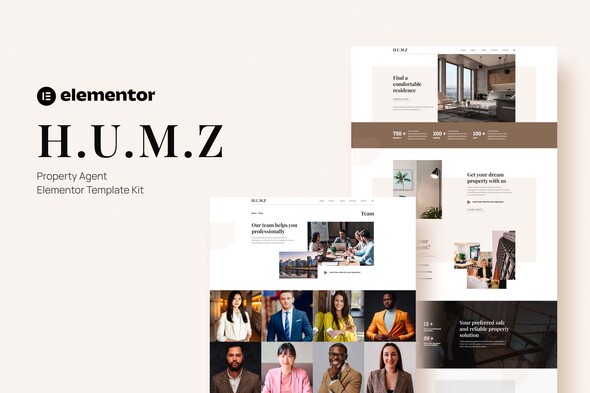 Humz – Property Agent Elementor Template Kit. This template kit is a fully responsive, clean and customizable. This template is suitable for use in businesses, such as: real estate agency, residence, real estate marketing, interior consultant, architect consultant, interior design, real estate agent, real estate broker, real estate company, construction agent, property agent and others.
This is not a WordPress theme. Elementor Kit contains page content for Elementor page builder. This kit has been optimized for use with the free Hello Elementor theme but may be used with most themes that support Elementor.
Kit Features:
Using Free Plugins (Elementor Pro is not required)
Modern & Clean Design
Responsive Layout
Customizable
No Coding Required
Ready Templates:
Header
Footer
Contact Form
Newsletter Form
Request Call Form
Header Widget
Home
About
Services
Contact
Team
Pricing
Case Study
Single Case Study
404 Page
Required Plugins:
Elementor
ElementsKit Lite
MetForm
Sticky Header Effects for Elementor
How to use Kit:
Install and Activate the "Envato Elements" plugin from Plugins > Add New in WordPress.
Do not unzip.
Go to Elements > Installed Kits and click the Upload Template Kit button.
Before importing a template, ensure the Install Requirements button is clicked to activate required plugins.
For best results, do not import more than one template at a time.
How to use Metform:
Import metform template.
Import the template where the form appears, then edit in Elementor.
Click the Metform widget in the column where the form should be and click Edit Form.
Select New, leave blank selected then click Edit Form button.
Click 'Add Template' grey folder button.
Click 'My Templates' tab.
Choose your imported metform template, then click 'Insert'.
Once the template is loaded, click 'Update'.
For further support, go to Elementor > Get Help in WordPress menu.
This Template Kit uses demo images from Envato Elements. You will need to license these images from Envato Elements to use them on your website, or you can substitute them with your own.
https://elements.envato.com/interior-of-modern-liviminimalist-interior-of-mode-G9A4PTH
https://elements.envato.com/interior-setting-HNEV34E
https://elements.envato.com/interior-setting-5MFH8EM
https://elements.envato.com/happy-couple-having-conversation-with-real-estate–52LCLCB
https://elements.envato.com/building-skyscraper-modern-glass-facade-SYPX3UQ
https://elements.envato.com/real-estate-agent-showing-prospective-buyers-aroun-8RZYGZD
https://elements.envato.com/businesswoman-manager-professional-is-working-job–P4MR37X
https://elements.envato.com/buildings-in-the-hafencity-hamburg-PE868EZ
https://elements.envato.com/real-estate-agent-showing-young-buyers-new-propert-GVCMX5H
https://elements.envato.com/positive-happy-young-woman-touching-rim-of-glasses-5UC5T7T
https://elements.envato.com/portrait-of-young-confident-european-business-man-RN2CLSP
https://elements.envato.com/interior-design-of-neutral-bohemian-living-room-in-SCDH6SL
https://elements.envato.com/business-team-RVA2V7E
https://elements.envato.com/modern-office-buildings-QBJMB2Z
https://elements.envato.com/woman-business-HSC8XQ8
https://elements.envato.com/a-businessman-in-a-suit-8T9U6XW
https://elements.envato.com/portrait-of-young-businesswoman-in-office-atrium-XCVA24J
https://elements.envato.com/elegant-businessman-of-african-descent-buttons-his-KRHQLJ9
https://elements.envato.com/confident-african-american-businessman-in-a-brown–B2TCLKC
https://elements.envato.com/businesswoman-drinking-coffee-at-restaurant-GTLXNLQ
https://elements.envato.com/cheerful-african-american-businessman-CYYAGGG
https://elements.envato.com/portrait-of-happy-business-woman-9CJ4TVQ
https://elements.envato.com/real-estate-agent-giving-keys-to-buyers-XAQSB8W
[ad_2]
Source